USFWS

is look­ing to des­ig­nate many areas in the

US

as ​

"

Crit­i­cal Habi­tat" in unlaw­ful pow­er grab.
Looks like the US Fish and Wildlife Ser­vice is look­ing to expand its author­i­ty over some U.S. and Indi­ana rivers includ­ing the Tippeca­noe. Todd Roki­ta, now Attor­ney Gen­er­al of Indi­ana and 17 oth­er Attor­ney's Gen­er­al are say­ing it's an unlaw­ful pow­er grab. ​"We need com­mon­sense poli­cies that con­serve both wildlife species and con­sti­tu­tion­al gov­ern­ment," Attor­ney Gen­er­al Roki­ta said. ​"We can pro­tect jobs, the econ­o­my and wildlife all at the same time."
The pro­posed rules would enable the Fish and Wildlife Ser­vice to des­ig­nate land parcels as indis­pens­able habi­tat for endan­gered species — even if no such species inhab­it the parcels.
"We all want to save endan­gered wildlife," Attor­ney Gen­er­al Roki­ta said. ​"And we all want to pre­serve the crit­i­cal habi­tat where they live. As it turns out, these new rules don't pro­tect wildlife — and they lit­er­al­ly vio­late the Endan­gered Species Act."
In a let­ter, Attor­ney Gen­er­al Roki­ta and oth­er state attor­neys gen­er­al press fed­er­al offi­cials to with­draw their ill-advised plans which will poten­tial­ly put local busi­ness­es in peril.
"We are tak­ing action because these pro­posed new rules rep­re­sent a pow­er grab," Attor­ney Gen­er­al Roki­ta said. ​"These new rules infringe on Indiana's con­sti­tu­tion­al author­i­ty over our own nat­ur­al resources and fail to pro­vide addi­tion­al mean­ing­ful pro­tec­tion to endan­gered wildlife species."
Attor­ney Gen­er­al Roki­ta has a long his­to­ry of defend­ing Hoosiers and the Indi­ana econ­o­my against fed­er­al over­reach in mat­ters involv­ing habi­tat and wildlife.
"If these reg­u­la­tions were to go into effect, the busi­ness­es and econ­o­my of places like the Twin Lakes would be in greater dan­ger," Attor­ney Gen­er­al Roki­ta said. ​"Look what the cur­rent reg­u­la­tions have done to con­tribute to dra­con­ian actions that have ruined the local econ­o­my dur­ing some years."
When he served in Con­gress, Attor­ney Gen­er­al Roki­ta fought fed­er­al poli­cies that forced the drain­ing of Lake Free­man and Lake Shafer in north­west­ern Indi­ana as part of U.S. Fish and Wildlife efforts to pro­tect endan­gered mus­sels in Tippeca­noe Riv­er. Such fed­er­al man­dates wreaked hav­oc on the sea­son­al economies of Mon­ti­cel­lo and sur­round­ing communities.
"We need com­mon­sense poli­cies that con­serve both wildlife species and con­sti­tu­tion­al gov­ern­ment," Attor­ney Gen­er­al Roki­ta said. ​"We can pro­tect jobs, the econ­o­my and wildlife all at the same time."
It's nice to see our local, state and fed­er­al politi­cians awake and angry. A copy of the let­ter is attached to read and download.
Also in break­ing news, the Indy Star report­ed yet anoth­er fresh­wa­ter mus­sel is being pro­posed for addi­tion to the fed­er­al endan­gered species list. The Sala­man­der Mus­sel which is basi­cal­ly starts off as a par­a­site! Can't make this stuff up, amazing.
Much more to come.
Here is access to the letter—
https://​con​tent​.gov​de​liv​ery​.co…

Con­gress­man Baird vows to help Lake Freeman
Con­gress­man Jim Baird (4th Dis­trict Indi­ana) was re-elect­ed to a sec­ond term. All of us on Lake Free­man could not be hap­pi­er. He has been a stout advo­cate for the Lake. In his promise to con­stituents, he called the Lake Free­man sit­u­a­tion a ​"Cat­a­stro­phe". He also vowed to make sure the low­er­ing and its' affects nev­er hap­pens again. A big thank you to Con­gress­man Baird!

What a crazy sum­mer. Let's hope com­mon sense pre­vails and we find a bal­anced solu­tion for Lake Freeman.
We appre­ci­ate Sen­a­tor Mike Braun and all of our elect­ed offi­cials efforts to help mit­i­gate this insane water release man­date. So here we are in Mid-Octo­ber, the Fed­er­al Court of Appeals just heard the SFLECC case. Let's keep our fin­gers crossed. We had a great ral­ly on Octo­ber 3rd. Over 250 peo­ple showed up, there were some great signs and a lot of pas­sion­ate speech­es. BUT… this is far from over. News Nation just did a sto­ry fea­tur­ing the man respon­si­ble— Scott Pruitt. He is a Field Super­vi­sor for The US Fish and Wildlife Ser­vice. Watch the sto­ry. Why did he not refer to the man­dat­ed a min­i­mum of 500 cfs of water to be released from the Oak­dale Dam AT ALL TIMES? Not a word. Instead the sto­ry was framed as if the Lakes are respon­si­ble for keep­ing water from the low­er Tippy.
Here is a FACT: Lake Free­man mus­sel deaths now stand at over 221,200 due to USFWS draw down!!!

Sports­man Inn Sea­wall Col­laps­es Lake Freeman
It's get­ting real now. George Wade, own­er of Sports­man Inn, speaks on WLFI18 about the impact of the USFWS water draw down man­date. The only ques­tion is… Where does he send the $10,000 bill? Let's all help George swing by The Sports­man Inn and any a meal!

SFLECC

Meet­ing pro­vid­ed infor­ma­tion about Lake Free­man levels.
8-22-2020
The annu­al SFLECC meet­ing was held at City Park. The meet­ing cov­ered Lake Free­man water lev­els, admin­is­tra­tion updates and elec­tion of new Board mem­bers, but the top­ic most peo­ple were inter­est­ed in was the lake lev­el sit­u­a­tion on Lake Freeman.
UPDATE 3 – 2‑2021 — AFTER EIGHT MONTHS LAKE FREE­MAN WATER LEV­ELS ARE BACK TO NOR­MAL! THANK YOU Moth­er Nature.
About 40 peo­ple were in atten­dance to hear Lake Lev­els Com­mit­tee Chair John Kop­ple­mann give an update. It seems in the short term all we can do is pray for rain. On Octo­ber 5th there is a Court hear­ing. SFLECC is chal­leng­ing the sci­ence orig­i­nal­ly used to set the hydra­tion flow for the Low­er Tip­py­ca­noe Riv­er. Don't hold your breathe for a ver­dict. Kop­ple­mann told the audi­ence there quite pos­si­bly could be a con­tin­u­ance. He and the rest of SFLECC are doing all they can to find a log­i­cal res­o­lu­tion. The US Fish and Wildlife Ser­vice issued a man­date in 2012 to main­tain a min­i­mum flow from the Oak­dale Dam of 500 cfs to main­tain hydra­tion for the endan­gered mus­sels that inhab­it the low­er Tip­py­ca­noe riv­er. Keep your fin­gers crossed for com­pro­mise. Until then do a rain dance.

What's Hap­pen­ing with the Lake Free­man Water Levels?
SFLECC, NIP­SCO, FERC & USFWS: Lake Free­man Water lev­el Policies
In 2012 NIP­SCO peti­tioned the Fed­er­al Ener­gy Reg­u­la­to­ry Com­mis­sion (FERC) to amend its license. Cur­rent­ly the license requires NIP­SCO to not let lake lev­els fall more than three inch­es. Last year when The Fish and Wildlife Ser­vice man­dat­ed a high­er min­i­mum water release from Oak­dale Dam, NIP­SCO was actu­al­ly vio­lat­ing their agree­ment. If approved, the new license would allow for up to a 12 foot drop in water lev­els! Which is basi­cal­ly back to the orig­i­nal riv­er bed. In, Feb­ru­ary, SFLECC encour­aged every­one to write a let­ter to FERC to voice con­cern and decline the request. For links and more infor­ma­tion click here. SFLECC is work­ing on behalf of all of us. They need fund­ing to con­tin­ue the con­ver­sa­tion, so please make a dona­tion at sflecc​.com. As soon as we hear any news we'll post.
The low­er Tippeca­noe Riv­er is home to over twen­ty-five species of clams, mus­sels and mol­lusks. Five of which are on the US Fish and Wildlife Services's list of endan­gered species. They're found in the por­tion of the Tippeca­noe Riv­er below Oak­dale Dam south to the Wabash Riv­er. The list includes the club­shell, fan­shell, rayed been, sheep­nose and snuff­box. The rab­bits­foot, a can­di­date for fed­er­al list­ing is also found here, along with sev­er­al state-list­ed mus­sel species.
By order of the USFWS, NIP­SCO, who owns and oper­ates the Oak­dale dam, must release a min­i­mum amount of water to keep the low­er Tip­py ade­quate­ly hydrat­ed. There are two water flow mon­i­tors to give accu­rate infor­ma­tion. One is locat­ed North in Wina­mac and the oth­er just south of the Oak­dale Dam. What­ev­er the rate is at the Wina­mac gauge 1.9x that amount must be released from the Oak­dale Dam. This is done in times of dry con­di­tions when flow rates dip below 500 cubic feet a sec­ond at Winamac.

When your boat is thirsty for gas, make sure you sat­is­fy your hunger pangs too. Susan's Free­man Bay is the place to fuel up for every­one. Now her snack list is post­ed on the gas pumps. Susan also has a brochure so you can be pre­pared when you dock.She has about any­thing you could pos­si­bly want. And lots of cool mer­chan­dise inside, but you can't go in right now so ask. The gals who work the dock are work­ing their tails off, give a tip!

A Nos­tal­gic Video From Indi­ana Beach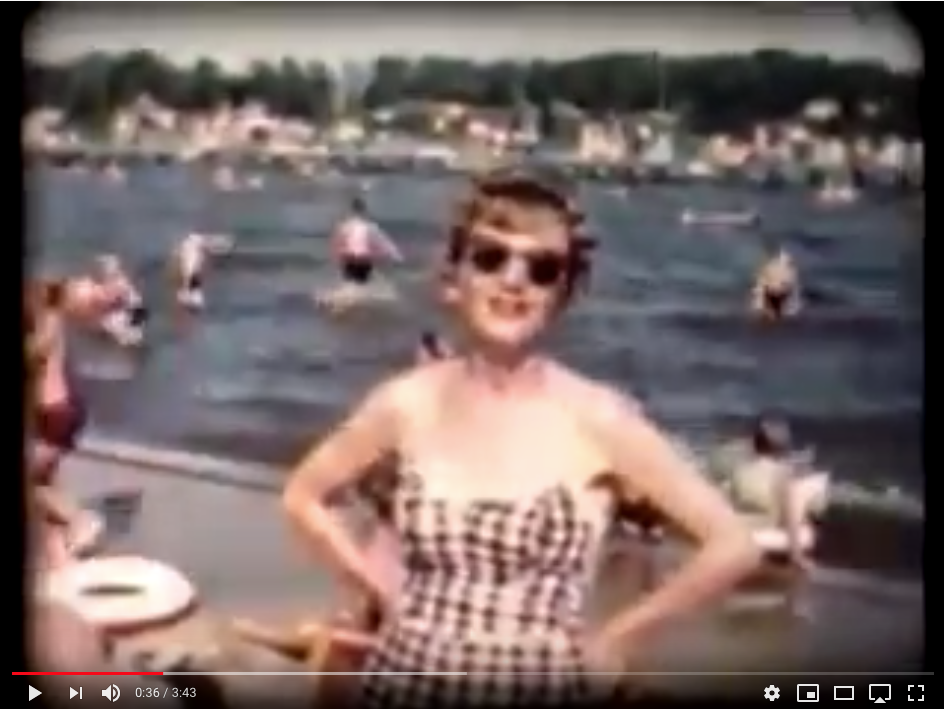 Saw this on You Tube and thought I'd share. Wel­come back Indi­ana Beach!.

Lake Free­man Wel­comes the Beau­ti­ful White Pelican
Beau­ti­ful White Pel­i­cans have found Lake Free­man to be a nice rest­ing spot from their win­ter breed­ing grounds in Min­neso­ta. I guess Mon­ti­cel­lo Indi­ana is now on their migra­to­ry route. The sto­ry above indi­cates Mis­souri is their main route. It seems that Feb­ru­ary and March are now prime bird watch­ing months on the Lake. Bald Eagles, Swans, Sand Cranes, Blue Her­rin and now White Pel­i­cans! Bust out your binocular's and start scan­ning the waters. We are tru­ly blessed to share our lake with these incred­i­ble creatures.

Peo­ple like boat rides and fishing
In our recent sur­vey, over 200 peo­ple respond­ed to what they real­ly enjoy on Lake Free­man. Over­whelm­ing­ly it is boat rides fol­lowed by fish­ing. The sur­pris­ing thing to us was how low sit­ting around a bon fire was. But hey, we get it, there are so many beau­ti­ful homes to look at. Fish­ing was sec­ond and that's no sur­prise. The stock­ing pro­gram has proven to be a suc­cess. Crap­pies, Sil­vers, Wall­eye are all being pulled out big and healthy. There is anoth­er sur­vey cur­rent­ly on our home page, please offer your opinion.

A Touch­ing Video ​
"

A Good Run"
Here is an incred­i­bly touch­ing show that recaps one mans mem­o­ries and gets to the heart of the spe­cial expe­ri­ence that is boat­ing. We've all had many of these moments on Lake Free­man. It was pro­duced and post­ed cour­tesy of Dis­cov­er Boat­ing. Enjoy!

Next Page

How deep is Lake Freeman?
A few spots measure 44 feet